About the Rhythm Room Dance Instructors
Elaine Hewlett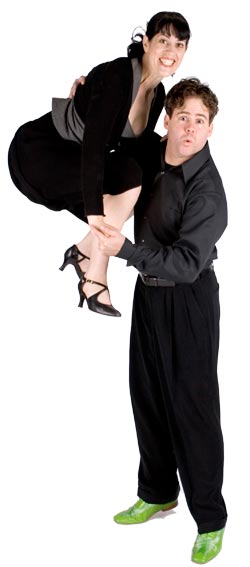 Elaine Hewlett has been teaching dance for over 15 years. She has won competitions, as well as judged competitions both locally and nationally. She has appeared in television commercials and talk shows in the United States and Japan.
Elaine has consulted with the Dallas Fort Worth Ballet for their production of the Rite of Swing and numerous plays at Kitchen Dog Theater. She choreographed and performed in Plano Repertory's 2004 production of Swing as well as a few numbers in the Contemporary Ballet Dallas 2007 production of A Christmas Carol.
In addition to teaching in DFW, she has taught at workshops around the country including the St. Louis Tap Festival, American Lindy Hop Championship, Oakland Swing Festival, Swing Out New Hampshire, New England Swing Dance Championship, Great Southwest Lindy Fest and Austin Swing Riot.
In late 2000, after extensive studying of Salsa in Miami, Elaine began teaching the famed 1950's Cuban dance, Salsa Rueda. One thing lead to another, and Elaine finally merged Swing and Salsa Rueda into a new social dance called Swing Rueda.
Did you know that Elaine was featured in Daily Candy?
(Scroll down to the Boogie Bride.)
Kathy and Jerry Warwick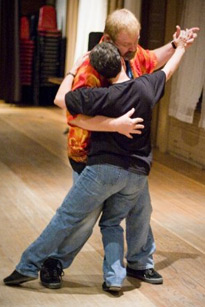 Kathy Warwick has been teaching dance in Dallas for almost ten years. She has specialized in vintage dances from the early 20th century, including Lindy Hop,East Coast Swing, Charleston, Jazz and Blues. She is a founding member of the Dallas Swing Dance Society.
Kathy has been a featured dance instructor at Austin Blues Party, Enter the Blues, Denver Blues Summit, Houston Fusion, Emerald City Blues, Down Home Blues, Mezz Jelly and many other dance workshops across the United States. She believes learning to dance should always be fun and strives to help all of her students achieve better results that they ever imagined.
A dance instructor with over a decade of experience in Blues, Lindy Hop and East Coast Swing, Jerry Warwick has been social dancing for four decades.His most recent 14 years have been dedicated to Lindy Hop, East Coast Swing and Blues.
Jerry, with his wife Kathy, have taught to rave reviews across the U.S. as featured instructors. They have an entertaining style of teaching with a strong emphasis on technique and fundamentals. After a class with Jerry and Kathy you will realize that you not only had a great time but you walked away with principles you can use all night long on the dance floor.
Ursula Hicks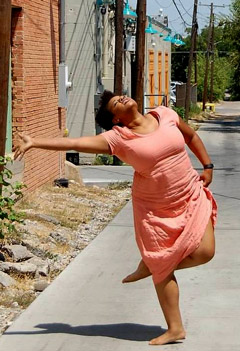 Ursula Hicks, began her dance training 16 years ago in Ballet, Tap, Jazz, and later Modern and Contemporary dance. Ursula graduated with B.A. in Dance from Texas Woman's University in the summer 2013, where she studied with Marry Williford-Shade, Sarah Gamblin, Jordan Fuchs, and Gladys Keeton.
Ursula brings such musicality and enthusiasm to the dance floor, it's no wonder that she has placed in multiple lindy hop competitions including Lindy Fest, Bluebonnet Bash, Sundance Swing Out, and a number of other competitions.
Ursula takes pleasure in collaborating with fellow artists and social dancing in the DFW area and enjoys teaching dance to students of all ages. She is an absolute joy to watch and learn from.